USMC Snow Camouflage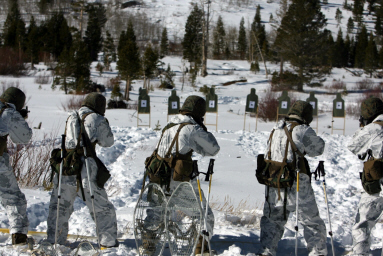 Marines from Company K, 3rd Battalion, 5th Marine Regiment, 1st Marine Division conduct combat marksmanship proficiency drills during the winter mountain operations course at the Mountain Warfare Training Center in Bridgeport, California January 2007 (Click Image to enlarge). Photo by: Lance Cpl. Nicholas Lienemann
(January 29, 2008 Vancouver, B.C.) The Camouflage design team of Dr. Timothy R. O'Neill and Guy Cramer have had their first jointly developed U.S. Military pattern to be issued: The United States Marine Corps Disruptive Overwhite (Snow Camouflage)
HyperStealth's President/CEO Guy Cramer and his camouflage design partner Lt. Col. Timothy R. O'Neill Ph.D. (U.S. Army, Ret.) are both under contract to the U.S. military and have been so since 2004. They are working together on a number of programs to develop the United States Military next generation camouflage patterns. These programs are independent of HyperStealth Biotechnology Corp.
O'Neill developed DualTex camouflage for the U.S. Army in the late 70's and early 80's that was the catalyst for recent pixalated patterns, and he is also one of the Patent holders for MARPAT (U.S. Marines Pattern). Cramer, who developed proprietary fractal algorithms to increase camouflage pattern effectiveness, was commissioned by King Abdullah II (Jordan) in 2003 developed the pixalated KA2 pattern for Jordan - which now has seven color schemes and over 750,000 uniforms manufactured for military, police, civil defense and customs officers. Together the team has developed camouflage patterns for other U.S. Government programs and for a number of other countries (to be announced within the next few months).
The USMC Disruptive Overwhite Uniform Program was overseen by USMC Program Manager Infantry Combat Equipment (PMICE) and the U.S. Army Soldiers System Center (Natick).
The USMC Snow Camouflage was developed by Cramer/O'Neill in 2005. After reviewing most of the worlds different snow camouflage patterns used in both military and hunting, the team developed and simulated over 30 new disruptive snow patterns, determining the top three patterns which were presented to the USMC Scout/Sniper School, Quantico for final selection. The final pattern used a subtle gray fractal/digital disruptive array to improve camouflage effect in identified operational areas and conditions.
The final pattern selected by the Snipers underwent strict simulation studies using rigorous photosimulation methods developed at West point in 2006 at the United States Military Academy (USMA), with results which only equaled the current issue Overwhite (all white) Snow Uniform. The pattern was then revised by Cramer/O'Neill modifying the color, contrast, and size of arrays to optimize the visual effect and retested at the USMA; Objective photosimulation testing showed that the Disruptive Overwhite pattern equaled and significantly exceeded the previous all white Overwhites for concealment in a series of tests within Snow covered Negative (open areas) and Positive (covered areas) regions. In November 2006 the USMC Disruptive Overwhite parka and trousers and Pack Covers were issued to the Mountain Warfare Training Center and to the Marine Reserve unit at Elmendorf AFB in Alaska for final field evaluations.
Field trials confirmed the previous results and the USMC began to issue the uniform in November 2007 with an initialed Acquisition Objective (AO) of 20,000 uniforms, this supplemented the Initial delivery of 4000 parkas, trousers, and pack covers used for field trials which was completed in December 2006 .
The Disruptive Overwhite Garment weighs no more than 0.65 lbs each and can be self stowed in a 6in. x 9in. pocket. With high tear strength in each direction, the cloth has a water repellent treatment durable to 50 laundering cycles, low air permeability, good drapeability, soft hand for low noise signature when moving, and is opaque to prevent woodland MARPAT undergarment strike through that diminishes the snow camouflage cover.
For more Camouflage news go to the HyperStealth® Home Page
---