HyperStealth Breaking News: Phase one, Analog to Digital Camouflage Conversion Project complete – 150 world camouflage patterns now pixelated and protected
Digitized German Oakleaf Pattern Fall/Winter (Top)
Spring/Summer (Bottom)
Pattern © Copyright 2005, Guy Cramer and Timothy R. O'Neill, All Rights Reserved.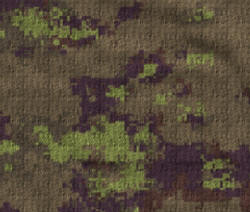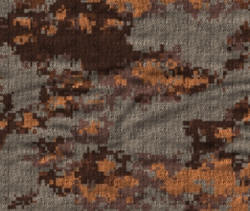 (October 26, 2005, Vancouver, B.C.) HyperStealth Biotechnology Corp., President and CEO, Guy Cramer, a leading camouflage designer and Lt. Col. Timothy R. O'Neill, Ph.D. (U.S. Army, Ret.) considered the world's top camouflage expert, announced they had successfully converted over 150 traditional (analog) camouflage patterns into 1st and 2nd generation digital camouflage with the pixelated look of MARPAT/CADPAT/ARPAT. These patterns such as British DPM, U.S. Woodland, German Flectarn… were among those patterns converted, other patterns included just about every NATO country, Russian and east European camouflage, Australian, South East Asia, the Middle East, Africa… They also converted camouflage from the 1930's-Present, including a number of commercial hunting patterns, experimental patterns, five different generic forms of Tiger Stripe, Multicam and even improved on the existing CADPAT/MARPAT/ARPAT digital patterns providing a more effective macro element (Larger disruption regions).
The ADC2 (Analog to Digital Camouflage Conversion) project began in late 2004 and originally was planned to last a few years, but rapid algorithm advances accelerated the Phase 1 completion date to October 2005.
Guy Cramer and Timothy R. O'Neill have agreed to license a number of these patterns to HyperStealth Biotechnology Corp. to begin marketing the patterns to different countries and commercial markets. In 2003 Guy Cramer designed the KA2 digital camouflage patterns for the country of Jordan. Lt. Col. O'Neill was the first to design and use digital patterns with the U.S. Army in the late 1970's; his work is referenced as the base research for the earliest digital troop camouflage CADPAT (Canadian Disruptive Pattern) and MARPAT (U.S. Marines Pattern). Cramer and O'Neill's combined efforts have recently shown up in both the Military and the commercial markets with the SpecAm (Special Operations) digital camouflage pattern.
Cramer had proposed in late 2003 to the British Ministry of Defence: Infantry Trials Development Unit (ITDU) to improve British DPM (Disruptive Pattern Material) by converting it to a digital pattern. The ITDU initially requested more information but was told by the British Ministry of Defense in early 2004 that they could not work with Cramer on development as he wasn't a British Citizen, even though he is a Canadian citizen, Canada is part of the commonwealth of the United Kingdom! The rejection from the British Government occurred before Cramer had supplied any digitized DPM patterns.
Using Cramer's Digital DPM unfinished work as a template. The Cramer/O'Neill team began using proprietary camouflage design programs and algorithms in 2004 to embark on digitizing as many camouflage patterns as they could find to copyright the improvements and to stop others from making critical mistakes they had seen developing.
Most 'digital' measures now available suffer from a lack of understanding of the purpose of digitizing (which should be properly called 'visual texture match') and are hence merely look-alikes of early designs whose improvement in camouflage is dubious.
The Canadian Government doesn't view camouflage patterns as a restricted export item and has approved HyperStealth (a Canadian corporation) to license the 2nd generation technology to all but a few sanctioned countries.
While these 150 patterns – converted into 300 digital sets may sound like allot, the team has already designed and copyrighted over 1000 original digital patterns from 1st-4th generation over the past two years.
HyperStealth Biotechnology Corp. is now in negotiations with two large companies to manufacture and sell some of these 2nd generation digital patterns to both military and commercial markets.
For more Camouflage news go to the HyperStealth Home Page
The Science of Digital Camouflage Design
KA2 Digital Camouflage Program Update
Satellite Determined - Regional Specific SpecAm™ Camouflage
To contact HyperStealth Biotechnology Corp., Email info@hyperstealth.com or phone (604) 961-7046.
This page and information © Copyright 2005,Guy Cramer, Timothy R. O'Neill, All Rights Reserved.
CADPAT is a Trademark of the Canadian Government
MARPAT is a Trademark of the U.S. Marine Corps
ACUPAT is a Trademark of the U.S. Army
Multicam is a trademark of Crye Precision LLC
HyperStealth is a Registered Canadian Trademark of HyperStealth.
"SpecAm" is a Trademark of HyperStealth® Biotechnology Corp.