Police Units in the Kingdom of Jordan to be issued new Advanced Digital Urban Camouflage Designated PSD Urban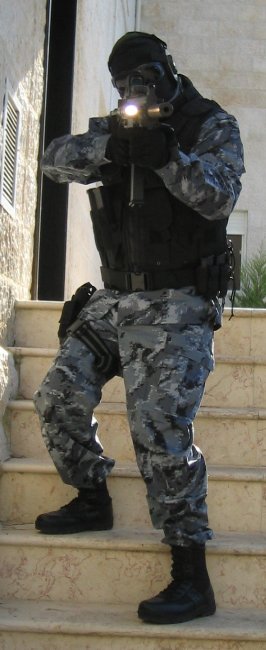 New Jordanian Police Officer Uniform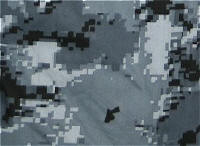 Public Security Directorate Urban Digital / Click to Enlarge
(December 19, 2004, Vancouver, B.C.) His Majesty King Abdullah II of Jordan recently embarked on an extensive camouflage development program to provide a pattern exclusive to the Jordan's Security Forces.
His Majesty tasked his Military Office to oversee the development of the camouflage program with HyperStealth® Biotechnology Corp. of Canada through Guy Cramer, President/CEO - Camouflage, Concealment, and Deception (CCD) designer.
The design (KA2) was completed in less than one month and color refinements took just over two months to conclude. Uniforms with the new digital pattern were fielded for testing and evaluation by Jordan's Law Enforcement units with final approval by His Majesty the King. The digital uniforms will be issued to Law Enforcement units in April/May 2005.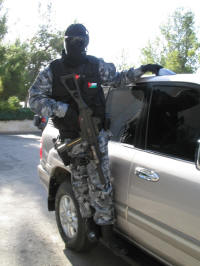 Tactical officer from the public security directorate practicing Diplomatic Protective Operation drills / Click image above to enlarge
The new Uniform cut and style was designed by guidelines from his Majesty with input from the Military and executed by the Military Office. Certain features from the current Jordan Armed Forces uniform were combined with the best features from the U.S. Army BDU, U.S. Marine Corp MARPAT and British DPM uniforms. The Head dress (not in photos) is styled on the German WWII Afrika Corp. M43 cap in the Digital patterns.
The digital pattern, designed by HyperStealth® has a few improvements over other North American digital designs with both the Macropattern and Micropattern elements allowing for better concealment at farther distances and simulated reflection and shadows elements.
A former Lt. Col in the U.S. military who was one of the first to see KA2 called it the best pattern he has ever seen. A former 30 year veteran of the U.S. Army (24 years served in Army Special Forces) commented that not only does it look good, it looks like it will be effective.
King Abdullah II is recognized as one of the most qualified world leaders in Military knowledge and understanding given his experience as a Armored Battalion Commander, Helicopter Attack Pilot, Commander of Jordan's Special Forces and extensive schooling in both the elite British and United States military schools. His camouflage was designed to meet those high standards.
Jordan continues to develop and expand their digital concealment programs with HyperStealth® for their Armed Forces.
Update March 11, 2005: Jordanian Army and Air Force issued new Desert Digital Battle Dress Uniforms
For information related to camouflage development, please contact HyperStealth® Biotechnology Corp., directly at gcramer@hyperstealth.com or phone (604) 961-7046.
Tactical officer from the public security directorate practicing car assault drills./ Click image above to enlarge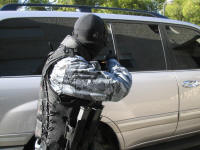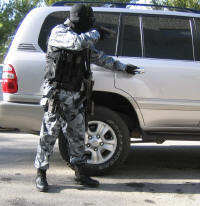 Click image above to enlarge

Neutral colors don't stand out in urban settings / Click image above to enlarge