Jordan Armed Forces modernization continues with wide scale issue of new KA2 Digital Camouflage
His Majesty King Abdullah II of Jordan meets citizens form Madaba, Jordan, June 12th 2005. The King is protected by His Royal Guard wearing the New KA2 Royal Guard Digital Woodland Camouflage/ Click image above to enlarge
---
Army Day in Jordan - KA2 Desert Digital uniforms as far as the eye can see Click image to enlarge
(June 12, 2005, Vancouver, B.C.) In an unprecedented move with current camouflage development programs, Jordan will take just three weeks to issue well over 100,000 uniforms of the most advanced Digital Camouflage pattern currently available in the world. All six color schemes will be fully issued by the end of this week. These include: Army / Air force Desert Digital, Public Security Directorate Urban Digital, Royal Guard Digital Woodland, Special Forces Digital Woodland, Coast Guard / Navy Deep Blue Digital and Civil Defense Directorate Blue Urban Digital.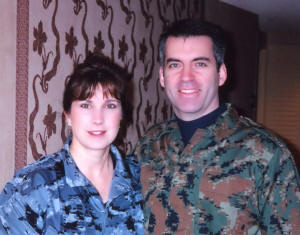 Updated KA2 Special Forces Woodland Digital (Above Right) and the Civil Defense
Directorate Blue Urban Digital
uniform (Above Left) The Civil Defense Directorate includes the Kingdom's firefighters, ambulance personnel, and an Intelligence Service.
The Camouflage development program was kept secret while research was conducted in Canada with HyperStealth® Biotechnology Corp., the world leading developer of digital camouflage with over 400 patterns designed to date, and the Military Office of His Majesty, King Abdullah II of Jordan. During the prototype stage the program was passed onto the Jordan Armed Forces for testing and evaluation.
Over 20 different colors schemes were tested in the prototype and evaluation stage to determine the most effective colors for the diverse regional settings of Jordan from Forest to Urban to Desert in which the services are to operate in. His Majesty, given his diverse military training and expertise, knew that one color scheme could not effectively conceal under all these environments, He requested from the start that at least three different color schemes be developed with a pattern that surpassed previous concealment designs as quality not quantity is paramount in all Jordanian developments.
Jordan's military shield consists of three branches–the Jordan Arab Army, the Royal Air Force and the Royal Coast Guard. Throughout the armed services, high training standards are the rule. Jordan has emphasized quality rather than quantity, and does not expand its forces more rapidly than its training and organizational capabilities permit. Jordan also has a highly efficient police force, border police and desert patrols who form the Public Security Force.
One of the main benefits Jordan has reaped from its peace treaty with Israel is the removal of a hostile military danger on its western border. Jordan has thus been able to freeze the process of conscription, making the conversion to an all-volunteer army. In 1997, total spending by the armed forces amounted to US$ 424 million, or 5.9% of the country's GNP. Of this total, around 85% is earmarked directly for salaries, care and training of soldiers.
Although the army has converted from a conscript to a professional force since the signing of peace with Israel, it offers enough benefits and services to keep the combined manpower of Jordan's armed forces at about 88,000 active soldiers, not including reserves. Jordan's Public Security Force includes approximately 25,000 persons, who primarily perform police duties. Jordan also has a Civil Defense Brigade, which includes the Kingdom's firefighters and ambulance personnel, and an Intelligence Service. In addition, Jordan has a small coast guard to patrol its coastline on the Gulf of Aqaba.
The 12,600-man Royal Jordanian Air Force exhibits excellent squadron performance in attack and air-to-air combat missions. It is combat-ready and capable of flexible operations at every level of command.
To maintain high quality soldiers, the government provides extensive assistance for all members of the armed forces. All service members receive generous economic support, from complete family medical care and free housing to financial grants, interest-free loans and tax-free commissaries.
Women in the Army
Princess Aisha training with fellow soldiers.
© Maher Attar, Sygma
In 1994, the Directorate of Women's Affairs was established to safeguard the rights of women in the Jordanian Armed Forces and allow them to reach their full potential. Initiatives from the Directorate, headed by Her Royal Highness Princess Colonel Aisha Al-Hussein, sister of King Abdullah II of Jordan, have resulted in legislation lengthening maternity leave to 90 days and procuring equal rights to housing. The Directorate also has assisted military women by upgrading training requirements, providing better opportunities for advanced training needed for promotion, and by instituting job placement programs designed to match women's skills and ambitions with an appropriate career path. The progressive initiatives of the Directorate of Women's Affairs have served not only to advance the role of women, but also to upgrade the capabilities of the armed forces by maximizing the return from every soldier.
KA2 Royal

Naval Forces Deep Blue Digital

(Below) Click to enlarge
Princess Aisha became the first female in the Middle East to complete five military parachute jumps and receive her wings. She then enrolled in the Royal Military Academy, Sandhurst in the United Kingdom, where she completed her officer's training course in April 1987. She was the first female from the Middle East to attend Sandhurst.
After graduation from the Royal Military Academy Sandhurst, Lt. Col. Aisha spent three months on a special course set by the British Army in which she visited all of the female military establishments in Great Britain. The course gave her valuable insight about how to go about advancing the interests of military women in Jordan. While on breaks from Oxford University, Lt. Col. Aisha worked with the Special Forces and graduated several parachute courses. From 1993 until 1994, she was Founder and Researcher of the Office of HRH Princess Aisha and in 1995 she became Director of the Directorate of Women's Affairs in the Jordanian Armed Forces. Also in 1995, Lt. Col. Aisha completed a security and protection training course with the Royal Guard.
In 1988, she received her first medal for hanging under a helicopter with members of the Special Forces during a fly-by at a military parade for His Majesty King Hussein. Her other awards include: The Order of Merit – Level 4, The Decoration of Independence – Level 1, The Medal of Administrative Competence, and the King Hussein Medal for Excellence, for taking first place in M-16 marksmanship on the Royal Guard Protection Course.
HyperStealth® Biotechnology Corp. continues to work with the Military office of His Majesty and the Jordan Armed Forces to continue the modernization process and is now developing new techniques, not yet used anywhere else in the world, for the Kingdom to further conceal their weapons, equipment, vehicle, aircraft and large military structures.
For more Camouflage news go to the HyperStealth® Home Page
New Article June 4, 2005: Kingdom of Jordan takes lead in Advanced Digital Camouflage with KA2 pattern
New Article June 6, 2005: Hashemite Kingdom of Jordan celebrates Army day with new KA2 Digital Camouflage
New Article June 20, 2005: Royal Naval Forces select KA2 Deep Blue Digital Camouflage Pattern
New Article June 29, 2005: KA2 Digital Camouflage Program Update
New Article July 28, 2005: Special Forces issued with the new Woodland Digital KA2 pattern
New Article October 4, 2005: King Abdullah honors Jordan's Special Forces
For information related to camouflage development, please contact HyperStealth® Biotechnology Corp., Guy Cramer, President/CEO directly at gcramer@hyperstealth.com or phone (604) 961-7046.
Information and images on this page are the property of the Hashemite Kingdom of Jordan, copyright 2005