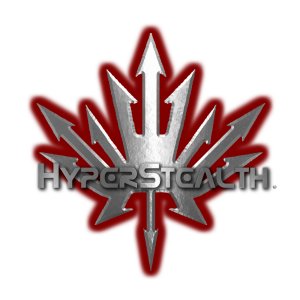 HyperStealth goes Supersonic - Digital Camouflage for Mach 2+
(December 28, 2005, Vancouver, BC) HyperStealth Biotechnology Corp. (Vancouver, Canada) has announced that after two years of Research and Development of digital camouflage pattern application for the purpose of High Speed Military Aircraft has concluded that these complex patterns can be placed on most aircraft with little training and no drawback over conventional camouflage.
HyperStealth's President and CEO, Guy Cramer, was commissioned in 2003 by His Majesty, King Abdullah II of Jordan to develop the advanced digital KA2 camouflage pattern for the Jordan Armed Forces, Police, Customs and Counter Terrorism Battalion. HyperStealth Biotechnology Corp. has quietly been involved in developing a number of other countries digital patterns after it was determined with objective results that the pixalated effect of digital camouflage was more difficult to detect than traditional (analog) camouflage.
In early 2005 The Military Office of His Majesty requested that HyperStealth submit the KA2 design to a weapons concealment company to trial the Police pattern on a large firearm. The photo at the left shows the actual results of the coated gun over the cloth material. This weapon was on display at the 2005 Shot Show in Las Vegas where the uniform was also being displayed. The gun could not easily be identified from 10 feet away by spectators when the when the gun was placed in front of the man wearing the KA2 Digital Police Uniform.
Once the uniform portion of the KA2 program was complete, His Majesty requested a feasibility study for using the digital pattern with Jordan's military ground vehicles similar to the weapon but on a much larger scale. HyperStealth worked with 3M Commercial Graphics division to use their vehicle wrap technology with Jordan's pattern on a Chevy Suburban in early 2005. There are two different 3M materials used on this vehicle: Scotchprint® and ScotchCal® window coating - the occupants can see out these windows. This vehicle was featured with Jordan's Counter-Terrorism Battalion (CTB 71) at the World SWAT Challenge in Nevada 2005.
After this success, His Majesty requested that the program research application techniques for Jordan's new Blackhawk helicopters, while 3M makes special aviation material for aircraft, the whole helicopter could not be done as the wind speeds and temperatures of certain areas can exceed the materials recommended limits. Certain parts of the helicopter would require painted camouflage so HyperStealth purchased a large industrial machine to create the templates required to place complex digital camouflage patterns on these Helicopters. His Majesty sent his key aircraft painter to NIC Industries (military spec. paint supplier) of Oregon to test this application method with 19 KA2 pattern templates that HyperStealth had manufactured. This test was also a success and will allow Jordan to place their KA2 patterns not only on vehicles and helicopters but also using templates to place the complex KA2 pattern on their F-16 supersonic jets (simulated photo on this page - click to enlarge) making the Kingdom of Jordan the first in the world to use this advanced visual mitigation method.
HyperStealth can now create the pattern templates for a building, aircraft, ship, vehicle or large and small weapons... HyperStealth is now refining special techniques to simulate 4+ color camouflages out of only two colors, thus reducing the prep time, paint and labor.
These patterns below are under an evaluation license to the U.S. Department of Interior. These patterns are licensed for trials under the DOI-BLM Visual Mitigation Study.
Compressor with current monotone color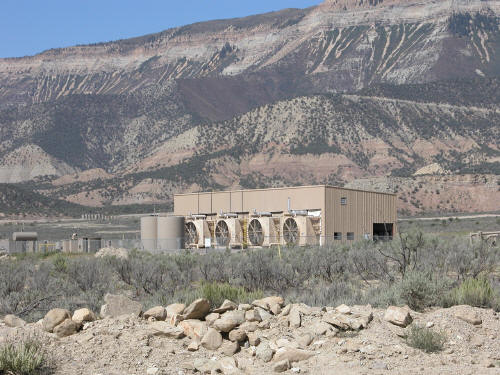 ---
Simulated Pattern Tumbleweed-6A-100
---
RMV 7-21 site with current monotone color
RMV 7-21 site with Simulated Pattern (TumbleWeed 6E)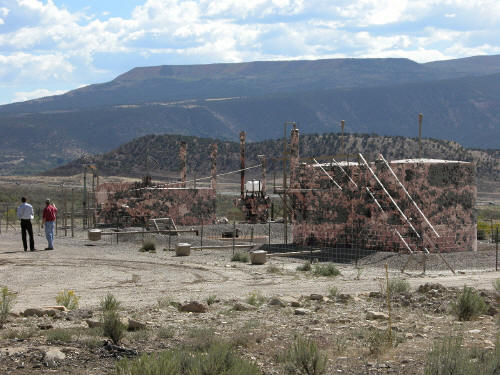 ---
RMV 36-22 site with current monotone color
RMV 36-22 site with Simulated Pattern (TumbleWeed 6E)
HyperStealth's expansion into large concealment design and application through Jordan has opened up many new areas for the company. The design team of Guy Cramer and Lt. Col. Timothy R. O'Neill, Ph.D. (U.S. Army, Ret.), considered to be the foremost expert on camouflage in the world, have been working with the US Department of the Interior's Bureau of Land Management for the past 20 months on structure concealment to allow scenic restoration of environmental sensitive locations. The BLM approached HyperStealth when after researching military camouflage concluded that this traditional approach would not be sufficient to effectively conceal large structures. Cramer and O'Neill began to develop new digital fractal (feedback loop) designs for specific structures and locations and show the capability under simulated conditions.
This new ability of HyperStealth to conceal large and small objects with both the 3M Vinyl application or in-house templates for complex pattern paint application and their access to some of Guy Cramer's and Timothy R. O'Neill's 1000+ copyright protected digital camouflage patterns has attracted the attention of a few other countries looking for similar military advantages and a number of commercial applications.
For information related to camouflage development, please contact HyperStealth® Biotechnology Corp., Guy Cramer, President/CEO directly at gcramer@hyperstealth.com or phone (604) 961-7046.
For more Camouflage news go to the HyperStealth® Home Page
The KA2 Camouflage pattern is under license to the Hashemite Kingdom of Jordan, HyperStealth Biotechnology Corp. copyright 2003
Patterns shown for DOI-BLM are copyrighted © 2004 by Timothy R. O'Neill, Joseph A. Resnick and Guy L. Cramer, All Rights Reserved. Patterns may only be used only with permission.
CONTACT INFORMATION
HyperStealth® Biotechnology Corp.
P.O. Box 21134 Maple Ridge Sq. Maple Ridge, B.C., V2X 1P7
Phone: (604) 961-7046
Email: info@hyperstealth.com
3M, ScotchPrint and ScotchCal are registered trademarks of 3M
"HyperStealth®" is a (®) registered Trademark of HyperStealth® Biotechnology Corp.
This page and information © Copyright 2005, HyperStealth® Biotechnology Corp., All Rights Reserved.