Tiger Stripe Camouflage goes Digital
(June 23, 2004, Vancouver, B.C.) Don't blink that Special Forces soldier may be right in front of you. For decades camouflage trends haven't changed much, until the Canadian Military came out with a new digital pixilated pattern in the 1990's called CADPAT which brought the acclaim from NATO in field testing. The U.S. Marines followed suit a few years later with a similar digital pattern called MARPAT, just beating Tiger Stripe, which placed second in the Marines field-testing, which started in the military Research labs with over 100 patterns.

Last week the U.S. Army announced the new Army Combat Uniform with a new digital pattern ACUPAT based on the Marines MARPAT in three colors and the elimination of black.

Why are digital patterns popping up faster than mushrooms in a manure farm? Because they work better than traditional patterns, through military field-testing and research, it was discovered that the focal region of the eye tends to perceive the digital pattern as part of the background noise and our brains are more likely to ignore the pattern for increased concealment to the user.

Tiger Stripe was initially used in the jungles of Vietnam by U.S. Special Forces and is now over 30 years old and still being used. If Tiger Stripe came second to a digital pattern why not evolve Tiger Stripe into a digital pattern? Guy Cramer, one of the world's top experts on Camouflage and designer of over 250 digital camouflage patterns conceived of giving Tiger the Digital makeover. "It just so happened that Cramer had designed a digital pattern for a Middle East country but didn't have the ability to prototype the pattern onto cloth for trial uniforms. Michael Bauer, the owner and developer of Tiger Stripe was consulted on camouflage printers in the United States to complete the samples. The two finally met face to face at a convention. Michael bought dinner for Cramer and his wife and Cramer stated that he would repay the kind gesture by digitizing Tiger Stripe that has since been named Tigerpat by Michael.
Even before the patterns were sent to the printers, Michael was receiving orders from computer-simulated pictures Cramer provided him (see picture to left). Michael was already involved with the U.S. Air Force in regards to the new Air Force Blue Tiger Stripe based on his original (non-digital pattern), which is undergoing limited user evaluations on a number of Air Force base's.
Cramer over the past few months began receiving desperate Emails from U.S. Air Force Para-rescue and Air Force Special Forces to come up with a pattern for them as they didn't want to go into combat or behind enemy lines with blue in their camouflage if the U.S. Air Force adopts the Tiger Blue scheme for their utility uniform.
Cramer has since been contacted by a large U.S. defense contractor to photo simulate his patterns on concept and prototype equipment and while just over 100 of his patterns are available for public viewing; the most recent 150 are confidential only available to U.S. and Canadian military command and the Defense Contractor . He claims that many of the confidential third generation designs he is working on now exceed his first 100 in both aesthetics and concealment.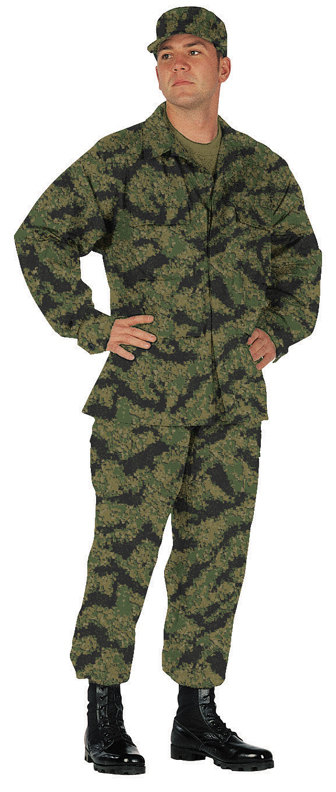 Cramer then developed a third pattern for Tiger using Tigerpat as a base with large modifications and further enhancing it with some of the advances used in his 3rd generation patterns adding an extra element of depth while still retaining four colors. Bauer then recommended digital shading of the dark stripes.
The new pattern called "Tigerpat Plus" was just completed last week (see picture to right) and is getting rave reviews from those in the civilian camouflage industry and military personnel.
While the U.S. Air Force may not officially recognize the Tigerpat or Tigerpat Plus for their people that need to go on the ground behind enemy line, Special Forces can often make personal choices for equipment.
Many Law Enforcement tactical teams are eagerly anticipating the first uniforms in the new Tigerpat Plus as Michael has called it and Stealth Modular Combat Systems has agreed to begin manufacturing the original Tiger Stripe and Tigerpat Plus.
As both Cramer and Bauer are in the same industry the question begs as why Cramer would enhance a pattern that will likely compete with his own patterns. Tiger Stripe has three patterns while Cramer has designed well over 250 digital patterns under copyright and is already dealing with the United States, India, and Australia and a few undisclosed countries. While Cramer's public patterns are just beginning to be recognized, Tiger Stripe is well established, so each has their own niche and while they may compete in certain areas Cramer tries to distance his patterns from Tiger's market. Bauer has since offered Cramer a business arrangement to mutually benefit both parties for Tigerpat Plus.
The British Army uses Cramer's "fracture" patterns in the classroom to teach concealment techniques, while the U.S. Army training center uses his "C2G" Camouflage Designated Enhanced Fractal Geometry patterns. Cramer states "when the toy companies recently started inquiring about my pattern licenses for toys you know you're onto something."
Guy Cramer is no stranger to innovation, with a Canadian patent to his name for the Passive Negative Ion Generator #2,282,155, and the developer of the SuperForce.com algorithm he is also the grandson and former research assistant of Donald L. Hings, P.Eng, M.B.E., C.M. who invented the Walkie-Talkie "Radio Frequency System" Canadian Patent # 414,084" for the Canadian Military 1942, which earned him the prestigious Member of British Empire Award and The Order of Canada for this achievement.
Among Hings 55 patents (23 patents in the field of electronics), included some of the more notable;
Electronic Musical Instrument (Electronic Piano) U.S. Patent #2,492,919
Molded Circuit Boards U.S. Patent #2,703,377
Linear Rolling Motor U.S. Patent #3,555,380 (bullet trains propulsion)
Oil finding device U.S. Patent # 4,458,205.
Hings also invented the technology used for the DEW Line (Distant Early Warning Line) operated by NORAD (North American Aerospace Defense Command) for over 30years.
For more Camouflage news go to the HyperStealth® Home Page
HyperStealth® CADPAT MARPAT Camouflage Review
---
References:
Donald Hings , P.Eng, M.B.E., C.M. Development of Walkie Talkie from 1930-1945
"HyperStealth®" is a registered Trademark of HyperStealth® Biotechnology Corp. All Rights Reserved.
HyperStealth® is a registered Canadian Trademark.
CADPAT is a Trademark of the Canadian Government
MARPAT is a Trademark of the U.S. Marine Corps
ACUPAT is a Trademark of the U.S. Army
"Tigerpat" and "Tigerpat Plus" are Trademarks of Tiger Stripe Products
Passive Negative Ion Generator is a trademark of HyperStealth®
Fracture Camouflage is a trademark of HyperStealth®
"C2G" is a trademark of United Dynamics Corp. (a Colorado company)
"Camouflage Designated Enhanced Fractal Geometry"
is a trademark of United Dynamics Corp.
(a Colorado company)
This web site was developed by HST Productions
This page and information © Copyright 2004,Guy Cramer, All Rights Reserved.
HyperStealth® is a Registered Canadian Trademark of HyperStealth®.