Kingdom of Jordan takes lead in Advanced Digital Camouflage with KA2 pattern
His Majesty King Abdullah II of Jordan was wearing Jordan's new Armed Forces camouflage for the first time on a trip to Oman, March 9th 2005 / Click image above to enlarge
Jordan's Counter-Terrorism Battalion 71 (CTB-71), a Jordanian elite contingent made up the Rangers, paratroops and members of the Royal Guard sporting the new Jordan Desert Digital pattern compete at the SWAT World Challenge in Nevada, April 2005 Click images to enlarge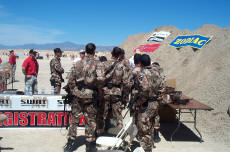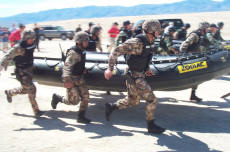 (June 4, 2005, Vancouver, B.C.) In 2003 His Majesty King Abdullah II of Jordan embarked on a camouflage development program to provide a pattern exclusive to the Jordan Armed Forces and Security Forces. This concluded in a digital pattern that has put Jordan at the forefront of concealment techniques surpassing recent North American developments.
Over 300,000 "KA2" patterned uniforms have been manufactured to date and the remainder of the uniforms which began to be issued to regular forces this past week will be completed by June 18th, 2005.
His Majesty tasked his Military Office to oversee the development of the camouflage program with HyperStealth® Biotechnology Corp. of Canada through Guy Cramer, President/CEO - Camouflage, Concealment, and Deception (CCD) designer. HyperStealth® was given approval from Canadian Foreign Affairs to work with the Military Office of His Majesty and the Jordan Armed Forces.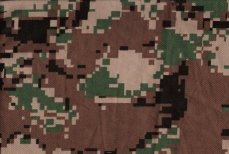 Army / Air Force Desert Digital
The program featured many firsts such as "Tele-development", all designs from start to finish were discussed via the phone, Email or Internet, due to the distances between Jordan and Canada, changes could be made in minutes and viewed simultaneously over the Internet in Canada and The Military Office in Amman, Jordan. Cloth samples were couriered from Canada to the Military Office in Jordan.
The design was completed in less than one month and color refinements specific to Jordan's regional diversity took just over two months to conclude. Uniforms with the new digital pattern were fielded for test and evaluation in October 2003 with different branches and units of the Jordan Military, Security and Civil Defence Forces. The Jordan Armed Forces were the first to approve the design followed by the Royal Guard, Security Forces and Civil Defence Directorate with final approval by His Majesty the King in late October 2003.
Current KA2 patterns include 6 different color schemes which include Land Forces / Air Force Desert Digital. Royal Guard Arid/Woodland Digital, Special Forces Woodland Digital, Coast Guard / Navy Deep Blue Digital, Public Security Directorate Urban Digital, Civil Defence Directorate Blue Urban Digital. This includes all services in Jordan; all units from the Jordan Armed Forces and Law Enforcement and Civil Defence Directorate have adopted the KA2 pattern as their official Battle Dress Pattern (BDP).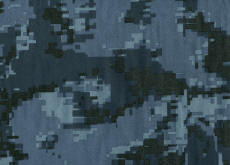 Royal Naval Force Deep Blue Digital
The new Uniform cut and style was designed by guidelines from his Majesty with input from the Military and executed by the Military Office. Certain features from the current Jordan Armed Forces uniform were combined with the best features from the U.S. Army BDU, U.S. Marine Corp MARPAT and British DPM uniforms. Cotton Ripstop fabric from the old uniforms is now being replaced with the more durable and breathable Nylon/Cotton material designed specifically for Hot Weather Climates. The uniform features four Jacket pockets with both chest and waist pockets secured with Velcro on flaps, reinforced knees, elbows and seat, concealed buttons so they don't snag under combat conditions, shoulder epilates, rounded MARPAT collar, button fly, Dual Thigh pockets, Dual rear pockets, adjustable waist, large combat belt loops, large wrist cuff for optional rolling of sleeves, drawstring cuff on pants, the non combat Head dress for regular forces is styled on the German WWII Afrika Corp. M43 cap in the KA2 digital patterns.
Special Forces Woodland Digital
The KA2 digital pattern has a few improvements over the older North American digital designs with both the Macropattern and Micropattern elements allowing for better concealment at farther distances. The United States Military Academy even has the Jordan Digital Desert uniform (one of the first 20 off the line) on display to the cadets and faculty.
KA2 has a larger Macropattern over Canadian/U.S. digital patterns to better break the symmetry of the soldier. KA2 is omnidirectional but with a higher trend toward horizontal disruption to further break the human Symmetry Axis. Further enhancements of KA2 are the bright and dark areas to mimic natural reflections and shadows which simulate depth. Different color schemes have been adjusted to take advantage of this effect as KA2 Digital Urban for Jordan's Police shows the greatest amount of depth and texture typical of urban/suburban settings. KA2 Digital Desert for Jordan's Army / Air Force has the highest contrast for disruption (Jordan has dark deserts) but the reflective element of the pattern was replaced with a green to represent sparse vegetation, this change removes some of the depth and texture appearance of the Urban pattern making the Jordan Desert Digital closer to sparse Arid/Desert environments where small reflective elements are typically few and far between.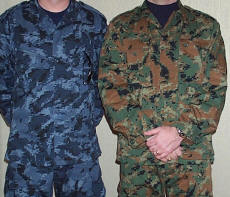 Jordan Coast Guard / Navy Deep Blue Pattern (left) and Special Forces Woodland (Right) as seen at the 2005 SHOT Show in Las Vegas / Click image above to enlarge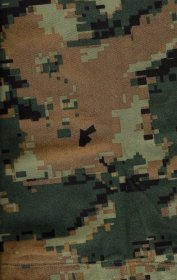 Royal Guard Woodland Digital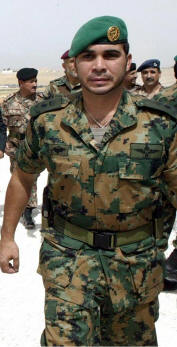 New Royal Guard Woodland Digital Uniform (click to enlarge)
Similar research was use to determine the most appropriate color schemes for KA2 Digital Woodland for Jordan's Special Forces, and the separate KA2 Digital Woodland for the Jordan Royal Guard.
A former Lieutenant Colonel in the U.S. military who was one of the first to see KA2 called it the best pattern he has ever seen. A former 30 year veteran of the U.S. Army (24 years served as a Green Beret) commented that not only does it look good, it looks like it will be effective.
King Abdullah II is recognized as one of the most qualified world leaders in Military knowledge and understanding. His camouflage was designed to meet those high standards. A brief history of His Majesty's military career shows his many credentials in this wide military spectrum:
King Abdullah II joined the Royal Military Academy Sandhurst in the United Kingdom in 1980, and was commissioned as Second Lieutenant in 1981. He was later appointed Reconnaissance Troop Leader in the 13th/18th Battalion of the Royal Hussars (British Army) in (West) Germany and England. In 1982, King Abdullah II attended Oxford University where he completed a one-year Special Studies course in Middle Eastern Affairs. Upon returning home, King Abdullah II joined the Jordanian Armed Forces and served as Platoon Commander and Company Second-in-Command in the 40th Armored Brigade. In 1985, he attended the Armored Officers Advanced Course at Fort Knox, Kentucky, USA. A year later, he became Commander of a Tank Company in the 91st Armored Brigade of the Jordanian Armed Forces holding the rank of Captain. He also served with the Royal Jordanian Air Force Anti-Tank Wing where he received his wings as well as his qualifications as a Cobra Attack Pilot.
In 1987, King Abdullah II attended the School of Foreign Service at Georgetown University in Washington, D.C. as a Mid-Career Fellow. He completed an Advanced Study and Research program in International Affairs, part of the 'Master of Science in Foreign Service' program.
King Abdullah II, thereafter, resumed his military career where he held various positions, among them Commander of the Royal Jordanian Special Forces and Special Operations Commander. From January 1989 until October 1989 King Abdullah II was the 2nd Company Commander in the 17th Tank Battalion, and from October 1989 until January 1991 he was 2nd in Command of the 17th Tank Battalion, during which time, in 1990, he attended the Royal Staff College in Camberley in the United Kingdom. He was then promoted to the rank of Major. From January 1991 until January 1992 he was Armored Corps Representative in the Office of the Inspector General of the Jordanian Armed Forces.
Public Security Directorate Urban Digital
King Abdullah became Battalion Commander of the Second Armored Cavalry Regiment in January 1992. In 1993, he was in the 40th Brigade with the rank of Colonel, and was made Deputy Commander of the Jordanian Special Forces. In 1994, he was made Commander of Special Forces with the rank of Brigadier and in 1996 he reorganized the Special Forces and other Elite Units into the Special Operations Command. King Abdullah was promoted to Major-General in 1998, and in June / July of the same year attended a defense resources management course in Monterrey Naval Post Graduate School.
King Abdullah II holds a number of decorations from various countries. He is a qualified frogman, pilot and a free-fall parachutist. His other interests include automobile racing, water sports, scuba diving and collecting ancient weapons and armaments.
Weapon coated with PSD Urban Digital (click to enlarge)
Jordan continues to develop and expand their digital concealment programs with HyperStealth® for their Military and Security Vehicles, Equipment and Aircraft.
For more Camouflage news go to the HyperStealth® Home Page
New Article June 6, 2005: Hashemite Kingdom of Jordan celebrates Army day with new KA2 Digital Camouflage
New Article June 12, 2005: Jordan Armed Forces modernization continues with wide scale issue of new KA2 Digital Camouflage
New Article June 20, 2005: Royal Naval Forces select KA2 Deep Blue Digital Camouflage Pattern
New Article June 29, 2005: KA2 Digital Camouflage Program Update
New Article July 28, 2005: Special Forces issued with the new Woodland Digital KA2 pattern
For information related to camouflage development, please contact HyperStealth® Biotechnology Corp., Guy Cramer, President/CEO directly at gcramer@hyperstealth.com or phone (604) 961-7046.
Information and images on this page are the property of the Hashemite Kingdom of Jordan, copyright 2005