Royal Naval Forces select KA2 Deep Blue Digital Camouflage Pattern
His Majesty King Abdullah II of Jordan (Above Right) inaugurates the New Building of Civil Defense's General Directorate June 15, 2005. Jordan's new KA2 Royal Guard Woodland Digital camouflage is always close by / Click image above to enlarge
KA2 Deep Blue Digital pattern as seen at the Shot Show in Nevada, January 2005 Click image to enlarge
(June 20, 2005, Vancouver, B.C.) The Military Office of His Majesty announced today that the Royal Naval Force of Jordan had selected the KA2 Deep Blue Digital color scheme for their new uniform. Jordan Naval Strength - approximately 500 with three Hawk Class heavy patrol boats.
Over 300,000 "KA2" Digital patterned uniforms have been manufactured to date for the Royal Guard, Special Forces, Army (Strength 86,000), Air Force (Strength 16,000), Public Security Directorate (Police) and the Civil Defense Directorate. The addition of the Deep Blue Digital color scheme for the Royal Naval Forces brings to six the number of color scheme used within the Jordanian Armed Forces, Law Enforcement and the Civil Defense Services.
The KA2 Deep Blue Digital color scheme was conceived of in early 2004 as a night pattern for Jordan's Counter Terrorism Battalion (CTB) 71 with prototypes, uniforms were received in October 2004, many months prior to the U.S. Navy fielding a Digital Blue / Grey design based on the U.S. Marines MARPAT pattern currently in limited wear testing within the U.S. Navy.
The KA2 Deep Blue Digital pattern was not adopted for CTB 71 due to the confusion that might initially arise due to the previous DPM Blue color scheme used by the Police in Jordan, with Jordan's Police force (Public Security Directorate) now converting to the new KA2 PSD Urban Gray Digital pattern with a quick phase out of the DPM Blue, the Royal Naval Force saw the opportunity to acquire a distinct Naval colored uniform.
New patterns are being developed for the Jordanian Counter Terrorism Battalion 71 using recent research findings which have advanced the knowledge and understanding of special concealment techniques in urban and night settings.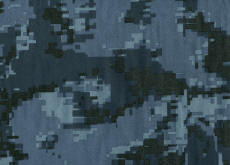 Royal Naval Force Deep Blue Digital (Above)
Hawk Class Heavy patrol boats in Aqaba Port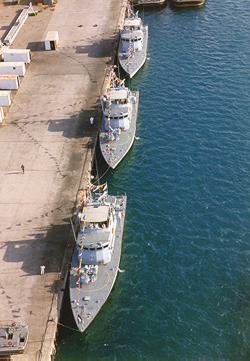 Tasks of the Royal Jordan Naval Force:
1. To implement the Jordanian law within the Jordanian Territorial Waters and to assume control of these waters.
2. Patrolling the Territorial Waters.
3. To carry out Search and Rescue within the Jordanian Territorial Waters.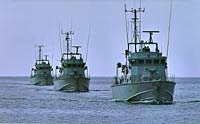 4. To Provide Coastal Defense for the Jordanian Coast.
5. To implement the laws of preventing pollution of the Aqaba Beach in coordination with the Aqaba Port Authority.
6. To Provide Escort to the Royal Yachts at sea.
Jordan continues to develop and expand their digital concealment
programs with HyperStealth® Biotechnology Corp. for their Military and Security Vehicles, Equipment and Aircraft.
For more Camouflage news go to the HyperStealth® Home Page
New Article June 4, 2005: Kingdom of Jordan takes lead in Advanced Digital Camouflage with KA2 pattern
New Article June 6, 2005: Hashemite Kingdom of Jordan celebrates Army day with new KA2 Digital Camouflage
New Article June 12, 2005: Jordan Armed Forces modernization continues with wide scale issue of new KA2 Digital Camouflage
New Article June 29, 2005: KA2 Digital Camouflage Program Update
New Article July 28, 2005: Special Forces issued with the new Woodland Digital KA2 pattern
For information related to camouflage development, please contact HyperStealth® Biotechnology Corp., Guy Cramer, President/CEO directly at gcramer@hyperstealth.com or phone (604) 961-7046.
Information and images on this page are the property of the Hashemite Kingdom of Jordan, copyright 2005