Special Forces issued with the new Woodland Digital KA2 pattern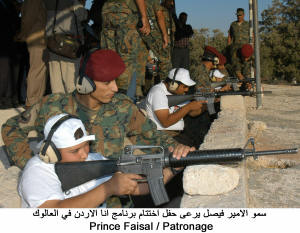 Jordan's Special Forces oversee youth visiting the training area. Special Forces are wearing the recently issued SF Woodland Digital camouflage. Click image above to enlarge
---
His Majesty King Abdullah II of Jordan wearing Jordan's new Army / Air Force Forces Desert Digital camouflage surrounded by officers and his Royal Guard in their Woodland Digital.
Special Forces Woodland Digital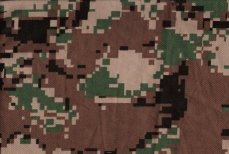 Army / Air Force Desert Digital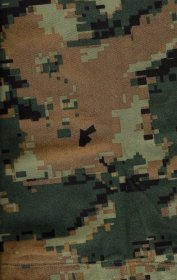 Royal Guard Woodland Digital
Public Security Directorate Urban Digital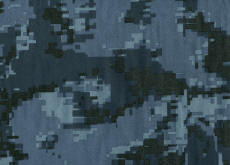 Royal Naval Force Deep Blue Digital
(July 28, 2005, Vancouver, B.C.) His Majesty King Abdullah II of Jordan, the Supreme Commander of the Jordan Armed Forces personally selected the color scheme for Jordan's Special Forces Woodland Digital camouflage. King Abdullah held various positions in his military career, among them Commander of the Royal Jordanian Special Forces and Special Operations Commander.
The "KA2" digital pattern has put Jordan at the forefront of concealment techniques. Over 300,000 "KA2" patterned uniforms have been manufactured to date.
KA2 is a vast improvement over the older traditional American woodland pattern; Jordan Special Forces have a unique color scheme tailored to the Middle East region with the darker red-brown found in Jordan's vast land area combined with an Arid Green as a slight contrast for the two main colors. The KA2 Digital pattern is larger than the North American CADPAT, MARPAT and ARPAT allowing for better concealment at further distances. Simulated shading and reflecting with the darkest and lightest colors also enhances the appearance of depth and texture. The focal area of the eye has more difficulty recognizing and identifying these artificial digital patterns over traditional camouflage see: The Science of Digital Camouflage Design
Current KA2 patterns include 6 different color schemes which include Land Forces / Air Force Desert Digital. Royal Guard Arid/Woodland Digital, Special Forces Woodland Digital, Coast Guard / Navy Deep Blue Digital, Public Security Directorate Urban Digital, Civil Defence Directorate Blue Urban Digital. This includes all services in Jordan; all units from the Jordan Armed Forces and Law Enforcement and Civil Defence Directorate have adopted the KA2 pattern as their official Battle Dress Pattern (BDP).
The new Uniform cut and style was designed by guidelines from his Majesty with input from the Military and executed by the Military Office. Certain features from the current Jordan Armed Forces uniform were combined with the best features from the U.S. Army BDU, U.S. Marine Corp MARPAT and British DPM uniforms. Cotton Ripstop fabric from the old uniforms is now being replaced with the more durable and breathable Nylon/Cotton material designed specifically for Hot Weather Climates. The uniform features four Jacket pockets with both chest and waist pockets secured with Velcro on flaps, reinforced knees, elbows and seat, concealed buttons so they don't snag under combat conditions, shoulder epilates, rounded MARPAT collar, button fly, Dual Thigh pockets, Dual rear pockets, adjustable waist, large combat belt loops, large wrist cuff for optional rolling of sleeves, drawstring cuff on pants, the non combat Head dress for regular forces is styled on the German WWII Afrika Corp. M43 cap in the KA2 digital patterns.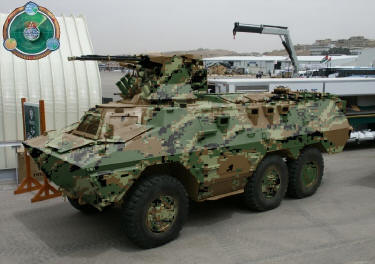 Jordan's concealment program continues to expand into Phase 2 of the KA2 Digital Vehicle Camouflage trials is set for the Summer of 2005 in Jordan using new Anti-Thermal and Anti-Infrared coatings, 3M is working with HyperStealth® Corp. and the Military Office of His Majesty to develop this new military concealment application technology.
3M is a registered trademark of 3M
For more Camouflage news go to the HyperStealth® Home Page
New Article June 4, 2005: Kingdom of Jordan takes lead in Advanced Digital Camouflage with KA2 pattern
New Article June 6, 2005: Hashemite Kingdom of Jordan celebrates Army day with new KA2 Digital Camouflage
New Article June 12, 2005: Jordan Armed Forces modernization continues with wide scale issue of new KA2 Digital Camouflage
New Article June 20, 2005: Royal Naval Forces select KA2 Deep Blue Digital Camouflage Pattern
New Article June 29, 2005: KA2 Digital Camouflage Program Update
For information related to camouflage development, please contact HyperStealth® Biotechnology Corp., Guy Cramer, President/CEO directly at gcramer@hyperstealth.com or phone (604) 961-7046.
Information and images on this page are the property of the Hashemite Kingdom of Jordan, copyright 2005