The Kingdom of Jordan officially unveils their Civil Defense Directorate KA2 Blue/Grey Digital Camouflage
His Majesty King Abdullah II of Jordan (Above Middle) wearing the Civil Defense's KA2 Digital Blue Grey Camouflage. Major General (GS) Awwad Saleem Masaid Director-General of Civil Defence (Right). Jordan's KA2 Royal Guard Woodland Digital camouflage is always close by the King (directly behind His Majesty) (week of March 6, 2006)/ Click image above to enlarge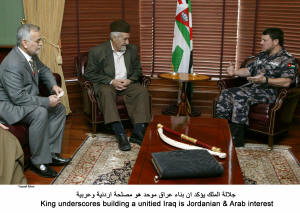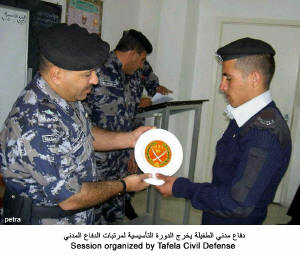 (March 13, 2006, Vancouver, B.C.) The Military Office of His Majesty announced that the Civil Defense Directorate KA2 Blue/Grey Digital Camouflage is now in wide scale issue across the country.

The Civil Defence Directorate is linked to the Ministry of Interior. Primary tasks are Fire-Fighting, Rescue and Ambulance services.

Other areas of duty include:

• Detecting, locating and marking explosives, and calling Public Security (Police) Forces for blocking the region and calling the Army for neutralization and removal.

• Contributing in detecting any chemical or radioactive leakage in cooperation with other directorates.

•

Recommending the establishment of gas stations. Liquefied gas distribution agencies and their storehouses in accordance with practiced self-protection and prevention conditions.

•

Setting preventive procedures and self-protection techniques for licensing the manufacturing, storing and selling of explosives, fireworks, chemicals and other hazardous materials.

In addition, Civil Defence cooperates daily with both military and security organizations to carry out duties required for joint programs.

Over 300,000 "KA2" Digital patterned uniforms have been manufactured to date for the Royal Guard, Special Forces, Army (Strength 86,000), Air Force (Strength 16,000), Navy, Public Security Directorate (Police) and the Civil Defense Directorate. There are now six separate color scheme used within the Jordanian Armed Forces, Law Enforcement and the Civil Defense Services.

The Civil Defense pattern came about when His Majesty asked the Directorate if they would like their own digital pattern uniform, the overwhelming response was yes. The King personally selected the color scheme by combining the grey colors for the Public Security Directorate (Police) pattern with the Blue colors from the Deep Blue (Navy) pattern.

KA2 Deep Blue Digital pattern (Jordan Navy) as seen at the Shot Show in Nevada, January 2005 Click image to enlarge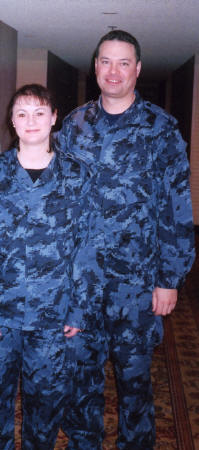 The KA2 Deep Blue Digital color scheme was conceived of in early 2004 as a night pattern for Jordan's Counter Terrorism Battalion (CTB) 71 with prototypes, uniforms were received in October 2004, many months prior to the U.S. Navy fielding a Digital Blue / Grey design based on the U.S. Marines MARPAT pattern which was just approved for the U.S. Navy.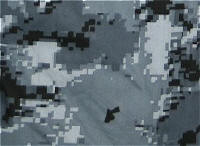 Public Security Directorate Urban Digital / Click to Enlarge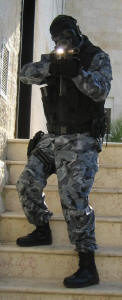 The KA2 Deep Blue Digital pattern was not adopted for CTB 71 due to the confusion that might initially arise due to the previous DPM Blue color scheme used by the Police in Jordan, with Jordan's Police force (Public Security Directorate) now converting to the new KA2 PSD Urban Gray Digital pattern with a quick phase out of the DPM Blue, the Royal Naval Force saw the opportunity to acquire a distinct Naval colored uniform.
New patterns are being developed for the Jordanian Counter Terrorism Battalion 71 using recent research findings which have advanced the knowledge and understanding of special concealment techniques in urban and night settings.
Jordan continues to develop and expand their digital concealment programs with HyperStealth® Biotechnology Corp. for their Military and Security Vehicles, Equipment and Aircraft.
For more Camouflage news go to the HyperStealth® Home Page
New Article June 4, 2005: Kingdom of Jordan takes lead in Advanced Digital Camouflage with KA2 pattern
New Article June 6, 2005: Hashemite Kingdom of Jordan celebrates Army day with new KA2 Digital Camouflage
New Article June 12, 2005: Jordan Armed Forces modernization continues with wide scale issue of new KA2 Digital Camouflage
New Article June 29, 2005: KA2 Digital Camouflage Program Update
New Article July 28, 2005: Special Forces issued with the new Woodland Digital KA2 pattern
New Article September 27, 2005: Jordanian Police transition to their new KA2 Advanced Digital Urban Camouflage
New Article October 4, 2005: King Abdullah honors Jordan's Special Forces
New Article October 19, 2005: King Abdullah Underscores Jordan will be Stronger than all Circumstances
Oct. 30, 2005 Queen Rania of Jordan sends urgent plea to the world from Muzaffarabad, Pakistan
December 28, 2005 HyperStealth goes Supersonic - Digital Camouflage for Mach 2+
January 8, 2006: Defense Industry Daily article HyperStealth's Fractal Camo Patterns Successfully Tested For Aircraft
For information related to camouflage development, please contact HyperStealth® Biotechnology Corp., Guy Cramer, President/CEO directly at gcramer@hyperstealth.com or phone (604) 961-7046.
Information and images on this page are the property of the Hashemite Kingdom of Jordan, copyright 2006