King Abdullah honors Jordan's Special Forces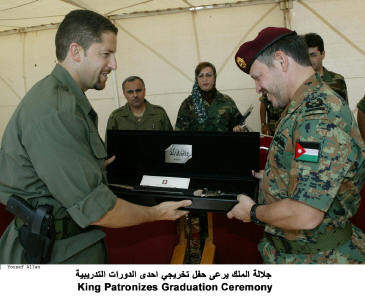 Click images to Enlarge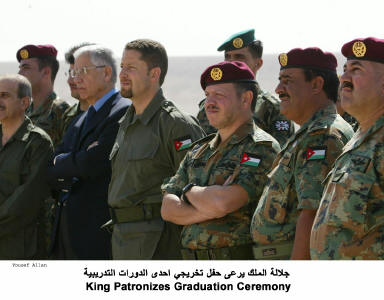 His Majesty, King Abdullah wearing the new Special Forces Woodland digital uniform meeting with the Jordanian Cabinet
(Click photos to Enlarge)
Below the King meets with the Romanian Foreign Minister
Special Forces Woodland Digital
(Oct. 4, 2004, Vancouver, B.C.) HyperStealth Biotechnology Corp. provided information last week from His Majesty King Abdullah through His Military Office, regarding the new PSD Digital Urban camouflage for Jordan's Police (Public Security Department or PSD).
Today His Majesty attended a graduation ceremony for the General Customs Departments held at the Special Operations School while wearing their new Special Forces Woodland digital uniform the King had commissioned for the Armed Forces. The King personally selected the Special Forces color scheme.
The Jordan "KA2" digital pattern camouflage leads the world in concealment ability. Six different color variations were designed for the Jordanian Armed Forces, Police and Civil Defence.
Before becoming King, His Majesty was the Commander of the Royal Jordanian Special Forces and Special Operations Commander. King Abdullah II holds a number of decorations from various countries. He is a qualified frogman, pilot and a free-fall parachutist.
King Patronizes Graduation Ceremony
Amman, Oct. 4 (Petra)--His Majesty King Abdullah II, the Supreme Commander of the Jordan Armed Forces patronized the graduation ceremony of a training course, that was held at the Prince Hashem Bin Al Hussein School for Special Operations for a number of employees from the General Customs Department. Director general of the department Ala'a Batayneh noted the importance of holding such courses for the department's employees. He valued efforts and role of the armed forces in training the department's employees and enabling them to gain the necessary skills that help in combating drugs and smuggling operations. His Majesty also attended, in the presence of Chairman of the Joint Chiefs of Staff, a military show with the participation of members of the special operations forces.
King Abdullah II receives Romanian foreign minister
Oct. 04 (Petra)--His Majesty King Abdullah II on Tuesday received Romanian foreign minister who handed His Majesty a message from Romanian President Traian Basescu on bilateral relations between the two countries and prospects of developing them in the various fields. His Majesty reviewed development of current situations in the region , particularly on the Palestinian and Iraqi arenas . He stressed the importance of international community's support to fulfill peace in the Middle East region, in order to enable its peoples achieve progress and development. Ungureanu expressed appreciation on the King's endeavors to achieve peace in the region. He expressed his country's keenness on developing relations of cooperation with Jordan , particularly in the economic fields. He pointed out that His Majesty's visit to Romania in May last year contributed to boosting the relations between the two countries who held a number of cooperation agreements in order to promote trade exchange and establish joint ventures.
For more Camouflage news go to the HyperStealth® Home Page
New Article June 4, 2005: Kingdom of Jordan takes lead in Advanced Digital Camouflage with KA2 pattern
New Article June 6, 2005: Hashemite Kingdom of Jordan celebrates Army day with new KA2 Digital Camouflage
New Article June 12, 2005: Jordan Armed Forces modernization continues with wide scale issue of new KA2 Digital Camouflage
New Article June 20, 2005: Royal Naval Forces select KA2 Deep Blue Digital Camouflage Pattern
New Article June 29, 2005: KA2 Digital Camouflage Program Update
New Article July 28, 2005: Special Forces issued with the new Woodland Digital KA2 pattern
New Article September 27, 2005: Jordanian Police transition to their new KA2 Advanced Digital Urban Camouflage
New Article September 28, 2005: King Abdullah shows Confidence and Pride for Jordan's Public Security Department
For information related to camouflage development, please contact HyperStealth® Biotechnology Corp., Guy Cramer, President/CEO directly at gcramer@hyperstealth.com or phone (604) 961-7046.
Information and images on this page are the property of the Hashemite Kingdom of Jordan, copyright 2005