Patterns may be licensed only with permission.
Photos from the Set of the Movie "The Last Sentinel" of HyperStealth's SpecAm Desert Viper & SpecAm Urbanized Terrain Uniforms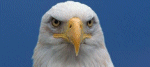 (January 30, 2006, Vancouver, B.C.) HyperStealth Biotechnology Corp. has supplied Stunt Works Inc. with a number of the SpecAm Desert Viper and SpecAm Urbanized Terrain uniforms for use in the movie "The Last Sentinel" which is currently filming.
Matt Anderson, Stunt Coordinator (Stunt Works Inc.) on this Military Action Sci Fi film, supplied us with the following photos from the set and received permission from the producer to show these on the HyperStealth site.
In the Urban SpecAm below is: Keith David (Riddick, Riddick 2, Transporter 2, Hollywood Homicide)
Matt Anderson is in the Desert Viper
MATT AS SGT WASHINGTON W/ KEITH KEITH DAVID AS THE COLONEL KEITH BRIEFS THE EESF BEFORE THEY PARACHUTE INTO L.A.
Desert Viper in the Field
Don "The Dragon" Wilson - [above] (Stealing Harvard, Batman Forever, Bloodfist series)
Bokeem Woodbine [above] (Ray, Sniper 2, 3000 Miles to Graceland)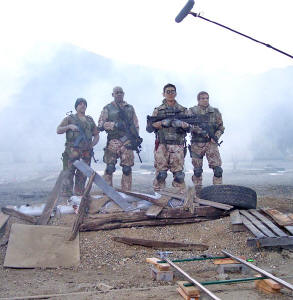 Matt's company Stunt Works Inc. is located in Los Angeles.
THE LAST SENTINEL, Jesse Johnson-Director, Sentinel Productions, takes place in a bleak future where an army of drone soldiers have taken over Earth. Don Wilson, is Tallis, the last living member of an elite fighting unit known as the 700th. Without leadership, he's become comfortable with hiding from war and focusing on staying alive. But when he meets a young female freedom fighter, he's inspired to take up the fight again.
For more Camouflage news go to the HyperStealth® Home Page
New Article August 17, 2005: Something Wicked This Way Comes: New Special Operations (SpecAm) Digital Camouflage
New Article September 3, 2005: The Science of SpecAm Digital Camouflage
Press Release September 14, 2005: NxGenUSA Acquires U.S. license for HyperStealth® SpecAm™
Press Release September 22, 2005: HyperStealth® Camouflage goes Biotechnical
New Article October 9, 2005: Satellite Determined - Regional Specific SpecAm™ Camouflage
New Article October 16, 2005: SpecAm HCD™ (High Contrast Disruption™) Woodland
New Article October 20, 2005: SpecAm UT™ (Urbanized Terrain)
New Article November 13, 2005: SpecAm Desert Jackal Camouflage
HyperStealth News November 24, 2005: SpecAm Production Announcement
January 1, 2006 SpecAm Weapons Disruption Coatings
January 12, 2006 Hollywood Movie "The Last Sentinel" to use HyperStealth's SpecAm Desert Viper Uniforms
---