The Kingdom of Jordan Customs Department receives a new KA2 digital camouflage color scheme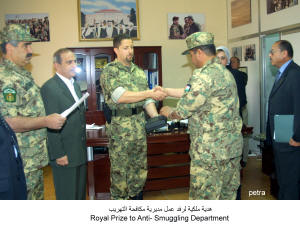 The Customs officers are wearing the KA2 Customs Digital Desert Click images to enlarge AMMAN (Petra) — The Anti-Smuggling Division of the Customs Department on Wednesday received automatic weapons and other equipment from His Majesty King Abdullah. Customs Department Director General Alaa Batayneh thanked King Abdullah for his continued support for the department's efforts, including the fight against drug smuggling and trafficking.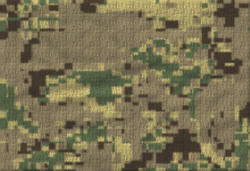 Jordan Department of Customs KA2 Desert Digital Pattern
---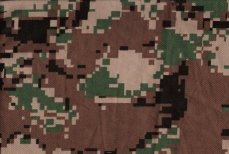 Army / Air Force Desert Digital
---

HyperStealth has been working with the Military Office of His Majesty to develop a cost effective and simple way to place complex digital patterns on military vehicles and aircraft. Digital patterns in these two photos are HyperStealth mockups.

(May 21, 2006, Vancouver, B.C.) The Kingdom of Jordan Customs Department proudly wore their new KA2 Digital Camouflage which is the seventh color scheme in the series to be revealed as they received new automatic pistols developed personally by King Abdullah II.
The KA2 digital camouflage pattern was developed in 2003 by HyperStealth Biotechnology Corp., a Canadian company based in Vancouver, B.C. after King Abdullah commissioned Guy Cramer, President and CEO of HyperStealth, to design an advanced digital camouflage pattern (called KA2) for Jordan's Army / Air Force, Navy, Special Forces, Royal Guard, Public Security (Police), Civil Defense and Customs officers. To-date over 390,000 uniforms have been manufactured in seven different color schemes.
The KA2 Customs Desert color scheme is quite different from the KA2 Army / Air Force Digital Desert, as it is quite a bit lighter than the dark red/brown which dominates much of Jordan's landscape. The boarders of Jordan typically have a lighter desert background and thus this color scheme is ideal for these regions as Jordan Customs is also responsible for Anti-Smuggling where this camouflage becomes very important.
The fact that Jordan has supplied their Customs Department a camouflage scheme which is likely one of the best desert patterns in the world shows King Abdullah's commitment to using advanced innovations such as their camouflage as a Force Multiplier.
---
HyperStealth is developing new camouflage patterns for the Jordanian Counter Terrorism Battalion 71, using recent research findings that have advanced the knowledge and understanding of special concealment techniques in urban and night settings.
Jordan continues to develop and expand their digital concealment programs with HyperStealth® Biotechnology Corp. for their Military and Security Vehicles, Equipment and Aircraft.
For more Camouflage news go to the HyperStealth® Home Page
New Article June 4, 2005: Kingdom of Jordan takes lead in Advanced Digital Camouflage with KA2 pattern
New Article June 6, 2005: Hashemite Kingdom of Jordan celebrates Army day with new KA2 Digital Camouflage
New Article June 12, 2005: Jordan Armed Forces modernization continues with wide scale issue of new KA2 Digital Camouflage
New Article June 29, 2005: KA2 Digital Camouflage Program Update
New Article July 28, 2005: Special Forces issued with the new Woodland Digital KA2 pattern
New Article September 27, 2005: Jordanian Police transition to their new KA2 Advanced Digital Urban Camouflage
New Article October 4, 2005: King Abdullah honors Jordan's Special Forces
New Article October 19, 2005: King Abdullah Underscores Jordan will be Stronger than all Circumstances
Oct. 30, 2005 Queen Rania of Jordan sends urgent plea to the world from Muzaffarabad, Pakistan
December 28, 2005 HyperStealth goes Supersonic - Digital Camouflage for Mach 2+
January 8, 2006: Defense Industry Daily article HyperStealth's Fractal Camo Patterns Successfully Tested For Aircraft
March 13, 2006 The Kingdom of Jordan officially unveils their Civil Defense Directorate KA2 Blue/Grey Digital Camouflage
March 21, 2006 Defense Industry Daily article Fractal Creep: New Digitized Camo Uniforms for USAF, USN, Jordan
March 29, 2006 The Kingdom of Jordan hosts their SOFEX (Special Operation Exhibition)
For information related to camouflage development, please contact HyperStealth® Biotechnology Corp., Guy Cramer, President/CEO directly at gcramer@hyperstealth.com or phone (604) 961-7046.
Information and images on this page are the property of the Hashemite Kingdom of Jordan, copyright 2006