The Kingdom of Jordan reveals new KA2 Digital Vehicle Camouflage as a Force Multiplier
His Majesty King Abdullah II watches the Jordan Armed Forces parade. Click images to enlarge

Their Majesties King Abdullah and Queen Rania review the Army Day parade yesterday as part of celebrations marking the Kingdom's 60th year of independence from Britain

Jordan Special Navy Teams in Zodiacs wearing their digital KA2 - Deep Blue. Note the vehicles also have a light KA2 desert digital pattern.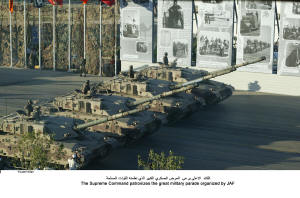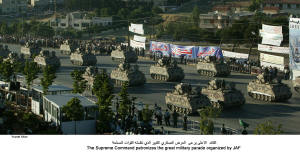 Jordan Armed Forces Vehicles in new Digital Camouflage - Click to Enlarge
AMMAN (Petra) — His Majesty King Abdullah, the Supreme Commander of the Jordan Armed Forces (JAF), on Saturday presided over the first military parade in more than thirty years as part of the country's 60th independence celebrations.
The parade showcased Jordan's military might and marked King Abdullah's ascension to the Throne on June 8, 1999.
The parade also commemorated the Great Arab Revolt against the Ottoman Turks in 1918, led by Sherif Hussein Ben Ali, emir of Mecca, and the 50th year of Arabisation of the JAF.
Throughout the afternoon, the country's 120,000 strong army paraded in front of the review stand where the King, dressed in formal green military attire and red beret, saluted the troops.
Her Majesty Queen Rania also attended the parade.
Crowds lined the roads as soldiers galloped on horseback, reinacting the first Arab army that triumphed over the Ottoman Turks.
Column after column of tanks rumbled past the crowds as masked elite Special Forces clad in black hung onto the sides of armoured vehicles clutching assault rifles.
The event was completed when Royal Air Force fighter planes and helicopters performed a flyby.
A huge part of west Amman was sealed off for the huge parade.
---
HyperStealth has been working with the Military Office of His Majesty to develop a cost effective and simple way to place complex digital patterns on military vehicles and aircraft. The Digital pattern in these the photo below is HyperStealth mockup all other photos on this page are actual painted vehicles

(June 12, 2006, Vancouver, B.C.) The Kingdom of Jordan surprised the military world Saturday June 10th, 2006 with a military parade which displayed a vast array of vehicles and equipment which were camouflaged in a number of pixalated variants of the Jordan KA2 camouflage used on their uniforms.
Jordan has lead the way in innovation with digital - pixalated vehicle camouflage applications and while other countries believed that Jordan's vehicle program was in prototype scale of one or two vehicles, the Jordan Armed Forces with the parade displayed hundreds of combat ready vehicles in digital - pixalated patterns, designed specific to each vehicle form.
In early 2005 King Abdullah II commissioned Guy Cramer, President/CEO of HyperStealth Biotechnology Corp., a Canadian company based in Vancouver, B.C., to begin to develop an application method for digital patterns onto military vehicles. This initially brought about a printed adhesive vinyl on a Suburban which was featured at the World SWAT Challenge in Nevada, along with Jordan's Counter Terrorism team in the Spring of 2005. Cost and lack of Anti-Infrared and Thermal reduction which could be achieved with new military paints forced an alternative method of application to be developed by HyperStealth - Special paint templates.
In early 2006 HyperStealth developed 16 different Templates to prototype for the Jordan Armed Forces painters to experiment with - this method was recommended and the program jumped into ground forces application.
---
HyperStealth is developing new camouflage patterns for the Jordanian Counter Terrorism Battalion 71, using recent research findings that have advanced the knowledge and understanding of special concealment techniques in urban and night settings.
The initial KA2 digital camouflage pattern was developed in 2003 by HyperStealth after King Abdullah commissioned Guy Cramer to design an advanced digital camouflage pattern (called KA2) for Jordan's Army / Air Force, Navy, Special Forces, Royal Guard, Public Security (Police), Civil Defense and Customs officers. To-date over 390,000 uniforms have been manufactured in seven different color schemes.
Jordan continues to develop and expand their digital concealment programs with HyperStealth® Biotechnology Corp. for their Military Aircraft.
For more Camouflage news go to the HyperStealth® Home Page
New Article June 4, 2005: Kingdom of Jordan takes lead in Advanced Digital Camouflage with KA2 pattern
New Article June 6, 2005: Hashemite Kingdom of Jordan celebrates Army day with new KA2 Digital Camouflage
New Article June 12, 2005: Jordan Armed Forces modernization continues with wide scale issue of new KA2 Digital Camouflage
New Article June 29, 2005: KA2 Digital Camouflage Program Update
New Article July 28, 2005: Special Forces issued with the new Woodland Digital KA2 pattern
New Article September 27, 2005: Jordanian Police transition to their new KA2 Advanced Digital Urban Camouflage
New Article October 4, 2005: King Abdullah honors Jordan's Special Forces
New Article October 19, 2005: King Abdullah Underscores Jordan will be Stronger than all Circumstances
Oct. 30, 2005 Queen Rania of Jordan sends urgent plea to the world from Muzaffarabad, Pakistan
December 28, 2005 HyperStealth goes Supersonic - Digital Camouflage for Mach 2+
January 8, 2006: Defense Industry Daily article HyperStealth's Fractal Camo Patterns Successfully Tested For Aircraft
March 13, 2006 The Kingdom of Jordan officially unveils their Civil Defense Directorate KA2 Blue/Grey Digital Camouflage
March 21, 2006 Defense Industry Daily article Fractal Creep: New Digitized Camo Uniforms for USAF, USN, Jordan
March 29, 2006 The Kingdom of Jordan hosts their SOFEX (Special Operation Exhibition)
May 21, 2006 The Kingdom of Jordan Customs Department receives a new KA2 digital camouflage color scheme
For information related to camouflage development, please contact HyperStealth® Biotechnology Corp., Guy Cramer, President/CEO directly at gcramer@hyperstealth.com or phone (604) 961-7046.
Information and images on this page are the property of the Hashemite Kingdom of Jordan, copyright 2006